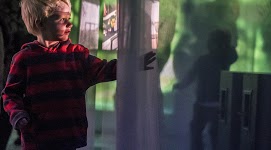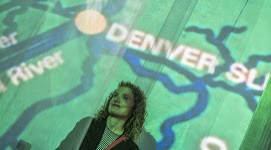 The group took up Collusion's R&D challenge to produce an innovative public artwork for King's Lynn that would employ the in situ Lynn Lumiere outdoor projection equipment and explore the use of live data. Through researching King's Lynn's geography, environment and socio-history, key themes quickly began to emerge linking the town's past with the present to address its possible future: the town's estuary setting at the mouth of the fens; it's mercantile heritage as a Hanseatic League port; it's fishing history; and the socio-economic impact of migrancy in the local area. Through group discussions the recurring word 'flow' became a metaphor connecting all these strands: the flow of water (tide), trade, people, nature, and data.
Other key considerations was for the work to address site-specificity and the town's cultural demographic to create value through visibility, footfall and thereby audience engagement. One location that seemed to connect all these conceptual elements was the site of True's Yard Fisherfolk Museum in the North End of town. The historical home of King's Lynn's local fishing community, True's Yard is also located almost directly opposite the British Ports Authority and in close proximity to an East European supermarket.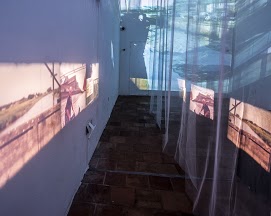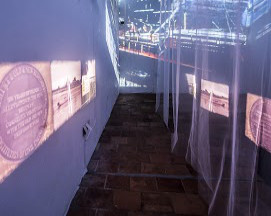 BellArtLabs proposed an ambitious, large-scale work, which would involve projecting onto fishing nets suspended above North Street, with further visualisations of live tidal, port and socio-economic data being projected onto the wall of the Purfleet Trust homeless charity building. Part inspired by the work of American artist Janet Echelman, the use of suspended fishing nets seemed like an apt visual metaphor that would create both a textural and elemental form through which to further explore the realms of projection art.
In addition, audio archive material of oral histories would be broadcast onto the street from True's Yard, activated by motion sensors as pedestrians walked past. The old friary wall directly opposite Freebridge Community Housing in Austin Street was considered as an alternative site for a smaller scale work.
Instead, a chance discovery of the Red Barn at the King's Lynn Arts Centre made for an ideal space to conduct projection experiments, create and explore a gallery-based work.
In its current form, this has been realised as a multimedia art installation combining video projections of archive documentary and amateur film footage with graphic animations simulating historical tidal data as would have been collected at Denver Sluice Complex using analogue circular charts. An animated sequence showing a map of King's Lynn illustrates the port's Hansa trade movements using historical data available from 1610. Projected onto layered gauze screens (a visual metaphor for fishing nets) to create an immersive, multidimensional experience, the work also uses Super 8 film projections of specially shot fenland footage at Denver Sluice and the popular West Lynn ferry service with occasional live screenings of 16 mm local amateur film footage from the 1950s. An audio mix of local archive interviews, original field recordings, and extracts from documentaries creates a multilayered soundtrack within the gallery space.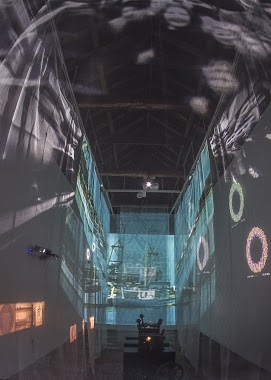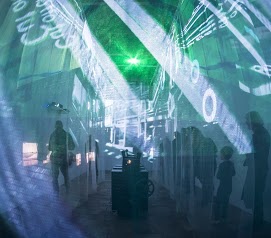 Media: Digital video projections, net screens, audio field recordings, 16 mm film projections, Super 8 mm film projections
With thanks to: Simon Poulter, Rachel Drurie, Lewis Anderson, Clare Green, Rich Hall (Collusion); Marcus Romer; Mellissa Beeken, Jane Alvey (East Anglian Film Archive); Philip Bayfield (Alive Leisure); Martin Chisholm (Kings Lynn & West Norfolk Borough Council); Dan Pollard, Denver Sluice Complex (Environment Agency); Dr. G. Alan Metters (Norfolk Records Society); PF Day & Son The Fent Shop; Kathy and Alan Cossins (Greyfriars Art Centre); Barbara Dougan; Jo Ledamun; the Roesner family. Additional thanks to the other teams participating in this project: Hurt Payne, Elements, and Fishgills, in particular, Gavin Toomey, Pete Cleary and Oliver Payne.
Archive Audio: With kind permission of True's Yard Fisherfolk Museum.